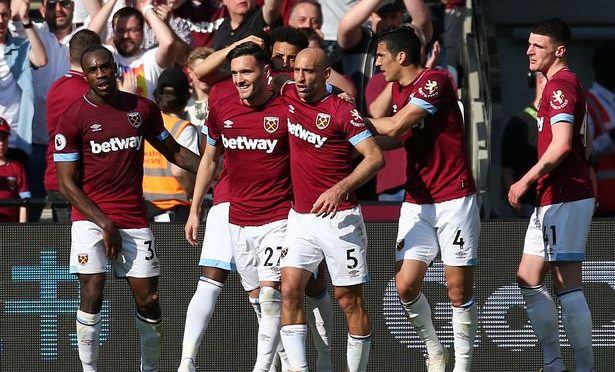 Which players are going to gamble on leaving the Irons this summer?
Although a series of up and down performances have seen the club stuck mid-table, West Ham United have recently proven they are capable of a few surprises.
In their first away win of 2019, the Irons beat Spurs, and handed them their first loss at their new ground.
This proves that given the right circumstances, the Irons can definitely hold their own against the Premier League's elite.
However, with the transfer window looming and the possibility of West Ham falling down the table, the squad could be set for an overhaul in the summer.
Despite their inconsistent performances this season, bwin Football Betting Odds notes how West Ham have given themselves a chance to head into the summer with plenty of momentum after edging out Spurs and then brushing aside Southampton in a recent 3-0 victory.
Yet, it is obvious that Pellegrini isn't totally happy with his players and this has raised speculation over a few players' futures, which we will look at here with the help of some bookmaker's odds.
Javier Hernandez
The Mexican international has been with the club since the summer of 2017, contributing his fair share of goals in his two seasons.
Yet, Football London suggests that the Mexican is set to leave in the summer, with his high salary being one of the deciding factors.
Furthermore, Claret and Hugh reports that bookmakers have even put odds on him leaving at 11/4. With such high odds, don't be surprised if suitors like Valencia try to re-sign him.
Andy Carroll
Despite being given a chance to prove himself by Pellegrini, another season marred by injury means the 30-year-old may have already missed his chance to earn another contract.
Carroll has been linked with former club Newcastle, Burnley and Southampton among others, leading to 7/4 odds on him leaving this summer. If the club release him at the end of the season, they will save an estimated £90,000 a week.
Marko Arnautovic
Currently at around 7/1 to leave West Ham, Arnautovic is valued at about £40m. While the club won't want to lose him, the Austrian's departure would provide a boost in the club's finances.
And with the striker closing in on 30-years-of-age, it may be a good bit of business if they can get more than the aforementioned £40m from a Chinese club.
Lucas Perez
After signing for the club for £4m on the final day of last year's summer transfer deadline, the Spaniard has failed to live up to expectations.
Dropped multiple times from the first-team squad, Perez has only managed three Premier League starts this season.
The club even attempted to sell him to Real Betis in the January transfer window, but the deal fell through when the Spanish side were only willing to take him on loan. As West Ham try to raise funds for new transfers, saying goodbye to Perez, looks all but certain.
---