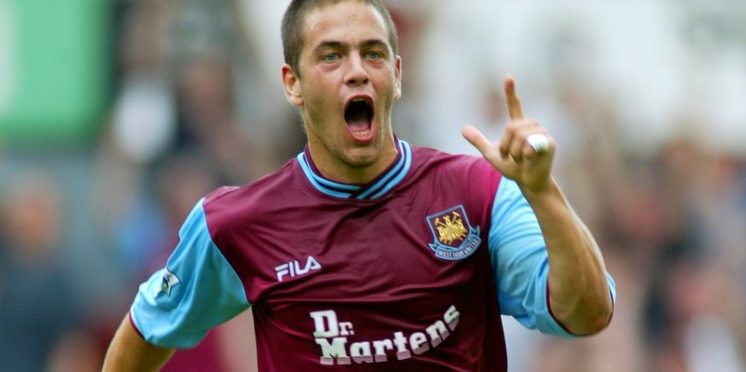 West Ham United legends: Joe Cole
It's a curse of living in a football-obsessed nation like England that the most gifted players are regularly sunk under the weight of media expectation.
Joe Cole was one of the few for whom the pressure seemed not to matter.
Ominously dubbed 'the new Gazza' as a 16-year-old West Ham United academy star, he always treated the pitch as his playground, and his job, as he would describe it upon his retirement in November 2018, as an 'honour'.
Closing out his career with the Tampa Bay Rowdies in the second tier of the US game, some were quick to point to a talent ultimately unfulfilled, but anyone who's followed him closely over the years knows that's a huge over-simplification.
Long-touted as one of the country's great hopes, it was January 1999 before Cole made his Irons debut, against Swansea City in the FA Cup.
His Premier League bow followed soon after in the intimidating surroundings of Old Trafford, against a Manchester United side on their way to a historic treble.
Cole was a half-time substitute as the Red Devils ran riot, subjecting West Ham to a 4-1 defeat courtesy of goals from Dwight Yorke and Ole Gunnar Solskjaer, either side of an Andy Cole double.
If there was a worry for Hammers fans over their prodigy following that match, it would have been that it showed the gulf in class between their side and the elite clubs.
How long could they keep up with his burgeoning genius before moving on became a necessity for his development?
The youngster made a total of nine outings for the first team that term, but it was his display in a 9-0 demolition of Coventry City in the FA Youth Cup final that prompted manager Kevin Keegan to invite him to train with the senior England side.
If that increased attention brought any added anxiety, Cole didn't show it in a milestone second season at the club which saw him win the Intertoto Cup, score his first goals and become a regular fixture in the line-up.
Over the next few years, the midfielder honed his game, aided by a host of mercurial talents to grace Upton Park over that period — experienced pros such as Paolo Di Canio, Freddie Kanoute and David James, alongside a smattering of youth.
But as inconsistency in the league saw them finish 9th, 15th and 7th in successive campaigns, stars like Rio Ferdinand and Frank Lampard, who had come through the system, sought pastures new.
Those departures ultimately came to a head in 2002-03, when the club were relegated from the Premier League with a record high points tally of 42.
For his part, Cole could have done little more to help avoid the drop — named captain despite being just 21 years of age when the season commenced, his energy and skill in the centre of the park were amongst a few bright points of the campaign and earned him West Ham's Hammer of the Year award.
But nothing, not even the offer of a new contract, was going to convince the now full international that he would be best served staying put.
Playing in the old Division One was unthinkable for a player who had established himself as a consistent performer in the top flight, and a £6.6 million offer from Chelsea was thought a good deal for all involved, despite the wrench of leaving the Irons.
The player that eventually returned to the Boleyn Ground in January 2013 was a different animal.
Cole had experienced enormous highs at Stamford Bridge, completing a clean sweep of domestic trophies, including three Premier League titles, and playing in a Champions League final.
However, a knee injury suffered in an FA Cup tie against Southend United in January 2009 kept him sidelined for over eight months, and ultimately led to his departure from the Blues.
He was allowed to join Liverpool on a free transfer, but a sending off on his league debut was a sign of things to come; Cole was out of the team for much of his first season on Merseyside, enjoyed something of a renaissance in the next on loan at Lille in Ligue 1, before being sold back to West Ham midway through the 2012-13 campaign.
There were some notable moments in his second spell with the Hammers, with two assists on his "debut", a strike against rivals Tottenham Hotspur and goals against the likes of Cardiff City and Fulham, but his acceleration was shot, the magic still in the mind but no longer regularly transferable to a body worn down by injury.
Stints at Aston Villa and Coventry City followed, before Cole hung up his boots in the sunny climbs of Florida's Gulf Coast.
So what led to the perception of the once boy-wonder as a wasted talent?
In fact, bad timing played a crucial role in Cole's career trajectory.
He came through one of the most talented youth setups in the country, along with the likes of Ferdinand, Lampard, Michael Carrick, Jermain Defoe and others, but at a time when Premier League money had established a hierarchy that West Ham weren't a part of.
As was the case for those contemporaries, it quickly became inevitable that he would at some point depart if he was serious about claiming some silverware, and in that sense no-one could argue that the move to Chelsea wasn't the right one.
However, maybe he ended up playing for the wrong manager.
Claudio Ranieri touted him as the replacement for Gianfraco Zola, but after a season the Italian was gone, replaced by Jose Mourinho in the hot-seat.
The Portuguese has a reputation based around his more conservative approach, and under his tutelage Cole became more of a hard-working winger, albeit a very good one.
That leads into a central issue; formations.
You were never going to get the most out of a player of Cole's particular skill set by playing him in a 4-4-2 formation, but that was the trend in England as he emerged into senior football.
He spent a lot of time plying his trade around that midfield four, before Mourinho regularly deployed him on either side of a central striker as he introduced his 4-3-3 shape into the Premier League, to huge success, it must be said.
Cole's natural position would surely have been as a hole player, the number 10 in the modern game, and it leaves you to wonder how different things could have been were he coming through the ranks now, in an age of Pep Guardiola, tika-taka and largely more offensive football.
Pure misfortune finally robbed him of that X-factor — only a lucky few come back from a major knee injury with their key attributes fully intact, and the London-born trickster was left short of that crucial initial explosion of pace that helped him get away from defenders.
How to describe Joe Cole, then?
West Ham legend may be slightly overstating things — after all, his 'prime years' were spent away from the club that essentially bookended his Premier League career.
But Cole is still well thought of in East London by those who remember his early promise, the effort he always put in and his flair on the ball — in many ways he embodied the fabled 'West Ham way'.
The move to Chelsea was a disappointment to many, but also reluctantly accepted as inescapable given the club's relegation.
Had the Irons stayed up that term, then maybe Cole could have been enjoyed for another season or two and cemented his status amongst fans, but there's little doubt that his talent would have outstripped the club's potential at some stage.
All in all, there's doubtless a tinge of regret amongst many as to how his career panned out, probably even in his own mind.
Cole looked for all the world to be destined for the exceptional, and perhaps the best mark of how highly he was regarded is that his evolution into a very good Premier League footballer and England regular will always be something of a disappointment.
---