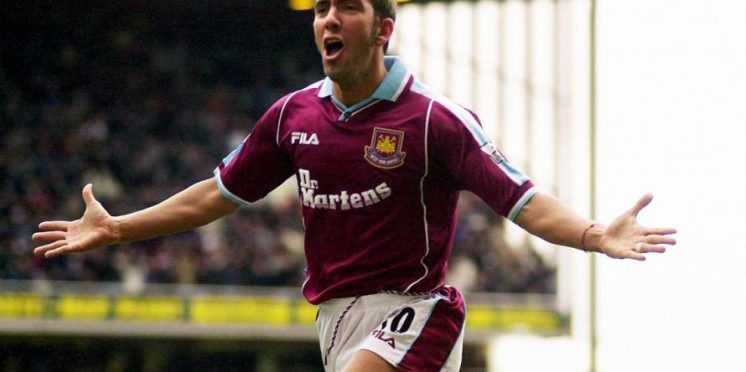 West Ham legends: Paolo Di Canio
Paolo Di Canio's other-worldly strike for West Ham United against Wimbledon in March 2000 is one of the rare goals that even in isolation tells you everything you need to know about the scorer's ability.
Peeling off the back of the defence as Trevor Sinclair's superb driven pass floated towards him, the Italian produced a mid-air volley of exquisite improvisation and brilliance, followed by a celebration that simply said; 'this is what I do'.
But whilst it summed up the player's on-field attributes in one perfect meeting of brains and technique, it tells only half the story of a man often shrouded in controversy.
Born and raised in Rome, Di Canio was an ardent supporter of Lazio and came up through the ranks with his boyhood club before moving to Juventus in 1990.
After a disappointing spell with the Old Lady, during which the team's wealth of attacking talent limited his game time, he joined Napoli, then AC Milan and finally moved to British shores in 1996 with Celtic.
Despite achieving personal success during his short time Scotland, Di Canio was sold the next year to Sheffield Wednesday, who made a significant outlay of £4.2 million for his services.
A fan favourite, it was the forward's propensity for attracting negative headlines which ultimately led him to Upton Park midway through the 1998-99 Premier League campaign, for a third of the price Wednesday had paid just 18 months earlier.
Banned for 11 matches and fined £10,000 for pushing referee Paul Alcock to the ground in a heated clash with Arsenal, Di Canio had not played competitively for around four months when West Ham boss Harry Redknapp took a chance and landed his signature.
It was seen as a huge gamble and few thought that he would turn out to be the defining player of the Irons' modern history.
Di Canio went on to spend four-and-a-half years at the Boleyn Ground, scoring 52 times in 141 appearances across all competitions.
That was despite not regularly playing as an out-and-out striker; the nine-cap international was often deployed just off the main centre-forward and even on occasion as a winger, such was his skill with the ball at his feet.
His first goal came in a 2-0 win over Blackburn Rovers in his fourth game, a point-blank 31st-minute effort after he had already assisted the opener for team-mate Ian Pearce.
That term West Ham managed to seal fifth place in the Premier League standings, still their best finish since the competition was revamped in 1992, and their finest overall since coming third in the old First Division in the 1985-86 campaign.
With four league goals from just 13 outings, Di Canio certainly contributed to that success, but his stats were less significant to supporters than his mesmerising footwork and flair in possession.
In many ways, this Italian import embodied the 'West Ham way', which places entertainment at the forefront of the club's identity rather than merely results.
His second season in East London was his most prolific; Di Canio netted 16 times in the top flight, including the volley against the Dons and took home the coveted Hammer of the Year award.
It was in his third term that perhaps the second-most talked about incident of the enigmatic striker's West Ham career occurred.
Playing away at Everton in a league fixture in December 2000, the scores were tied late on when Toffees stopper Paul Gerrard came charging out of his net and twisted his knee attempting to clear an Irons attack.
The ball was crossed towards Di Canio, who, instead of attempting a shot at the empty goal, caught the ball to enable his opponent to receive treatment.
https://www.youtube.com/watch?v=EWdf5ZLbtYo
A simple act of sportsmanship won him the FIFA Fair Play Award the following year and it still bears revisiting the footage today to see one of the great competitors in Premier League history playing the game in such a spirit.
As the years wore on, Di Canio continued to find the net at a decent rate and a seventh-placed finish for the Hammers in 2001-02 looked to set them up nicely for the following campaign.
With a team including the likes of David James, Joe Cole, Jermain Defoe, Frederic Kanoute and of course the talismanic Di Canio, there was a sense of great optimism around Upton Park.
What followed was a disaster, as West Ham were relegated despite achieving a points tally of 42, which would normally have been enough for a lower mid-table finish.
To give some context, the Hammers survived in the Premier League on five other occasions with an equal or lower haul.
It was a major shock for a team labelled 'too good to go down', and it spelled the end of Di Canio's journey in claret and blue.
On a personal note, the season must have been one of enormous frustration; a falling out with manager Glenn Roeder saw him ostracised from the first team, returning only when the boss fell seriously ill towards the end of the term, but his late efforts were sadly not enough.
With nine goals from his 18 league appearances in 2002-03, it is clear that Di Canio still had the capacity to make a difference at the sharp end of the pitch and had he featured more consistently then surely the drop could and perhaps would have been avoided.
Released on a free, the veteran spent time at Charlton Athletic before returning home with Lazio and then Cisco, eventually announcing his retirement in 2008.
A mixed coaching career has followed; Di Canio guided Swindon Town to promotion from League Two in 2012 and was appointed as Martin O'Neill's successor at Sunderland the following year with a remit to keep the Black Cats in the top flight.
He achieved that target but was sacked early in the next season after a poor start and reported squad unrest.
A vocal supporter of fachism, Di Canio is a controversial figure away from the sport and that has certainly coloured public opinion of him in recent years.
If there is one place, though, that he will always find a warm welcome, it is at West Ham, where he is to this day revered as a club great.
His talent was such that Sir Alex Ferguson once tried to poach him for Manchester United, but instead he stayed put to become a cult icon at Upton Park.
Di Canio represented the very spirit of the Irons during an indifferent spell for the side as a whole, and despite his controversial political standpoint, many fans would love to see him in the dugout one day.
---