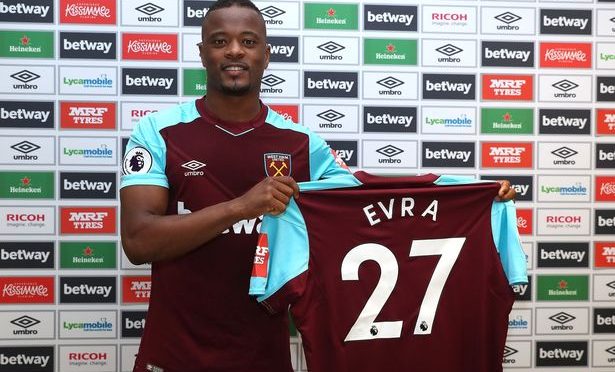 West Ham fans react with mixed views to club announcement: "Solid", "Kill me"
West Ham United have announced the signing of Patrice Evra on their Twitter profile and Hammers fans have taken to the social media site to share their reaction to the news.
The former Manchester United defender has been reunited with David Moyes at the London Stadium on a six-month deal on a free transfer.
West Ham signing Evra has stepped out for the likes of Juventus and Monaco as well, however, he is excited about the chance to play in the capital and feature for the Hammers.
The new Irons left-back was available following his sacking from Olympique de Marseille after he kicked a fan in the stands and was banned from all UEFA competitions for six months.
However, the ban does not stem to the Premier League and he is in contention to make his first appearance for West Ham against Watford on Saturday at the London Stadium.
Many of the Hammers supporters had a mixed reaction to the signing of Evra, with some generally pleased with the deal for an experienced defender, however, others were slightly more critical of the decision.
West Ham fans took to Twitter to share their opinions that they had felt he was too old to be playing for the club at the age of 36, whilst others believed that he would not bring too much to the side.
There were Hammers supporters who were delighted with the arrival of the left-back and could not wait to see him playing for them in the near future.
Here are some of the best West Ham reactions:
Unacceptable. Desperate signing on a free transfer 🙄🙄 https://t.co/ngLKLGlHgA

— Sammy McNess ⚒ (@Sammcness) February 7, 2018
Evra will do us proud you'll see. It's only short term so nothing to lose.

— ⚽️⚒TOM'S WHUFC⚒⚽️ (@aldredtj) February 7, 2018
https://twitter.com/MikespaceOnline/status/961333163120300034
@Evra Welcome to #WHUFC have a great experience and please sort out our back 4

— Martin Johnson (@EdwardJames) February 7, 2018
Personally think Evra is a solid signing for us. Age is just a number. Attitude to the game and a desire to play is a different matter. The guy clearly loves football and has always given 110% wherever he has played. #WHUFC #Evra #COYI

— Bradley Fisher (@b_fisher88) February 7, 2018
In all honesty I think signing @Evra will work out for the better. Winning mentality, great work rate and great attitude. All things that we need and love at West Ham.

He also has a questionable dress sense, so should fit right in! ⚒️😂#COYI #WHUFC

— West Ham Untied ⚒️ (@West_Ham_Untied) February 7, 2018
https://twitter.com/thedarkl3gacy/status/961265785812471808
https://twitter.com/simondawkins23/status/961253559944798208
Just what we need. An old left back. David Sullivan really hasn't got a clue.

— AllSportsView (@AllSportsView) February 7, 2018
https://twitter.com/_joeWHU/status/961330010043961344
---