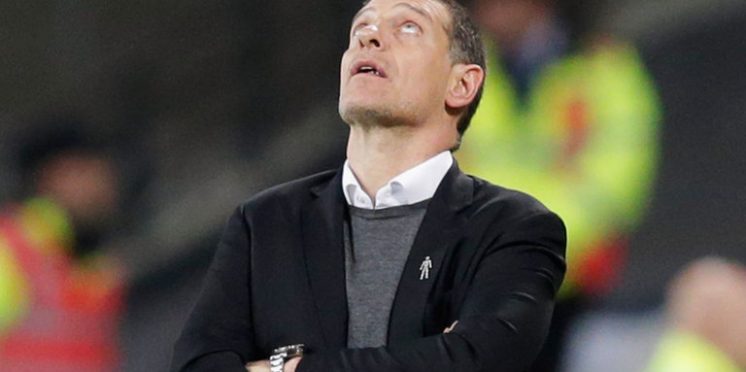 West Ham fans call for Bilic to go after Brighton embarrassment
After a relatively positive ten-man showing against Burnley last weekend, West Ham United fans were hopeful that victory over newly promoted Brighton and Hove Albion on Friday night could be the catalyst to kickstart the club's season.
However, to say things did not go to plan is an understatement.
A 3-0 West Ham defeat to modest opposition and a performance that led to a mass exodus of Hammers supporters well before the final whistle means that Slaven Bilic's position at the club looks untenable.
With the move to the London Stadium, ambition in the transfer market and hopes of breaking into the Premier League top six, it should be a good time to be an Irons supporter at the moment.
However, the team simply are not responding to Bilic's management and as such it is surely time that he either resigns or the board decide a change in necessary.
While the Croat has lost the faith of a large majority of the West Ham fans over recent weeks and months, the Brighton defeat looks to have been the final breaking point for the remainder.
The Hammers supporters have been taking to Twitter in the aftermath of the game, with the call for Bilic's head heightening.
The West Ham boss looked and sounded completely dejected in his after-match comments, with it surely only a matter of time before Gold, Sullivan and Brady wield the axe.
Here are the key tweets of disgruntled Hammers supporters asking the club to make the required change.
For everyone blaming Bilic, I get it to a certain extent

— Jack❤️⚒🏴󠁧󠁢󠁥󠁮󠁧󠁿🦐💙 (@JackJPW_COYI) October 21, 2017
Spot on.. no heart,passion or desire. The buck stops with Bilic

— Louie Wansell WHU (@LouieWansell82) October 20, 2017
@ExWHUemployee I too was with you in the Bilic corner & just felt he needed a few more games but I can't see how he can turn this around now

— Leigh Neale (@WHU_leigh) October 20, 2017
(2/2) As much as I like the guy, Bilic has to go. I really can't see how he can change anything! Week after week we as fans are let down!!

— Leigh Neale (@WHU_leigh) October 20, 2017
Sorry but it's Bilic who picks the team, decides tactics and prepares the team, the buck stops with him for all on the pitch issues.

— Bryan (@Bryan_WHU) October 20, 2017

https://twitter.com/WHU_MR2013/status/921509750617108486
https://twitter.com/JakeRWard/status/921502178715619330
Bilic alluded to a lack of application & intensity in training last season. Ultimately it's down to him though to 'manage' that situation.

— TransPennineIrons (@transpennineWHU) October 20, 2017
Bilic needs to go, he has ruined our club

— ⚒Return of the Mac ⚒ (@WHU_mac) October 20, 2017

https://twitter.com/will_whu/status/921500087339114498
I'm not even angry. I'm just done now. I've not even got the energy to scream for him to go. I wash my hands of Slaven Bilic.

— chaz⚡ (@ChazzSM) October 20, 2017
---