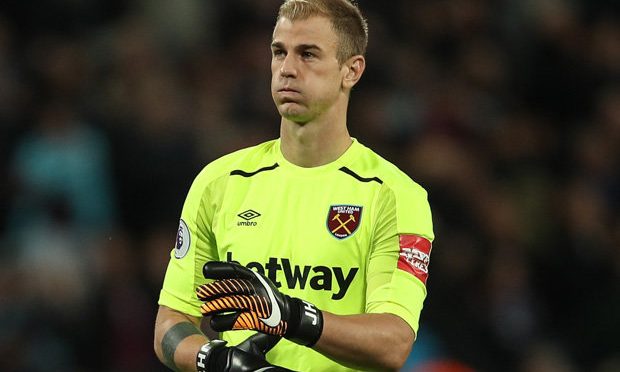 West Ham fans blast this man after Everton capitulation: 'Why hasn't he been dropped?'
Joe Hart suffered the wrath of West Ham United fans on Twitter as he turned in another below-par performance in the 4-0 Premier League defeat at Everton.
On a cold Wednesday evening on Merseyside, the home team put their recent poor form behind them to condemn the Hammers to a second defeat in three matches since David Moyes took over as manager earlier this month.
It means that the Londoners remain 18th in the table after 14 matches and now have the worst defensive record in the division, having conceded 30 goals.
And whilst Hart cannot be solely blamed for that statistic, his display at Goodison Park showed why many no longer consider him England's number one goalkeeper.
The 30-year-old conceded a penalty in the first half, dashing off his line only for Dominic Calvert-Lewin to beat him to a loose ball.
The youngster knocked it around Hart, who got a faint touch on the ball before clattering into the forward.
Despite protestations from the former Birmingham City stopper, the penalty stood and Wayne Rooney nodded home from the rebound after seeing his initial effort saved.
The ex-England captain added his second just before the half-hour mark, tucking in at the back post following Tom Davies' cross.
A spell of West Ham pressure after the break looked set to be rewarded when they were granted a penalty of their own, but Manuel Lanzini's spot-kick was parried away by Jordan Pickford.
The Hammers continued to press but after a long ball forward from the home side, Hart raced from his goal and cleared the ball straight to Rooney, who struck a magnificent first-time shot into the unguarded net from inside his own half of the pitch to complete his hat-trick.
There was still time for Everton to add a fourth as Ashley Williams rose highest to head in from a corner to put some gloss on the scoreline for the Toffees.
As for the Irons, they were left to reflect on another poor display that leaves them firmly in a relegation battle.
Hart took the brunt of the blame on Twitter, with the best of the reaction to his performance below:
And if you are Adrian watching the Joe Hart performance you must be thinking 🤔 "if I can't get in this poor #westham side I'm kidding myself if I think I can play for Spain" #taxi #transferwindow Anybody Somebody I am a goalie, get me outta here! #coyi

— Kriss Akabusi MBE OLY (@krissakabusi) November 29, 2017
Defense no idea what they're doing, Joe Hart an absolute goddamn joke who can't even move, this is ridiculous. #COYI

— Daniel M. Ford (@soundingline) November 24, 2017
https://twitter.com/DavidHarrison74/status/935984436805623809
⚽️I still think that Hart is a good keeper despite some terrible performances for WHU and particularly last nights. It is time though to bench him and play Adrian COYI

— Amad Purtow (@aphammer) November 30, 2017
yeah, Hart did horrible, but let's not make it out like that was the decider. sadly. Bilic would've done better than this.. #EVEWHU #COYI

— Gabor (@wtfiGabor) November 29, 2017
After that gaff I think it is seriously time to start thinking about re-instating @AdriSanMiguel as the 1st Choice keeper again. Hart has not looked great to say the least. Not that the back 4 have been great, but that goal is on Hart #COYI #EVEWHU

— Josh Ouellette (@JoshoYouKnow) November 29, 2017
@davidgold you applauded us fans after the Leicester game so when are the board going to play their part? Joe Hart 30 goals conceded in 14 games and Adrian still on the bench! #WHUFC #COYI

— Terry Driscoll (@tdriscool) November 29, 2017
Let's all look on the bright side. Hart can't play on Sunday. Rather have Adrian's heart than Hart. #coyi #whu #irons #EVEWHU #whu #hammers

— HammersSteve (@HammersSteve) November 29, 2017
Joe hart take early retirement. I'll pay your pension #COYI #hammers #westham

— Jack Munroe (@JF_Munroe) November 29, 2017
I have said it over and over there was no need to buy Joe Hart. Darren Randolph was a good goalkeeper #COYI

— Nial O'Farrell (@NialOFarrell) November 29, 2017
Thing with Hart is he will make good saves but then he will make basic errors and cost you points

— Jonesy ☆ (@RockyWhu) November 30, 2017
Not being funny if Adrian was to concede as many goals as hart has he would have been dropped so why hasn't hart been dropped yet

— Ryan (@RyanThorpe_WHU) November 29, 2017
---