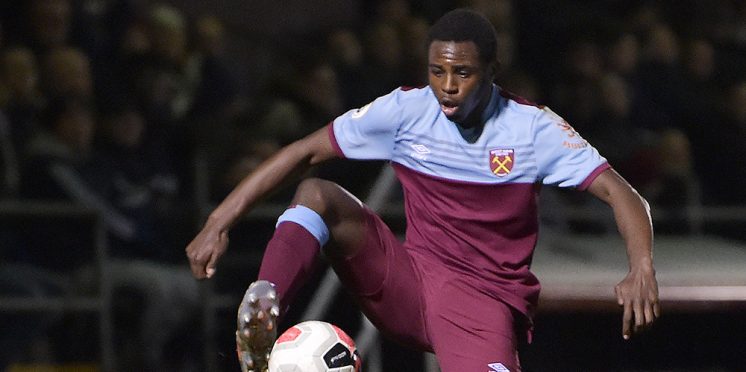 Moyes reveals his disgust at surprise decision
West Ham United manager David Moyes has expressed his disappointment at the news that defender Jeremy Ngakia will leave the club when his contract expires at the end of the month.
The teenager shocked the Hammers recently by revealing that he is to depart the London Stadium after his current deal runs out, when many expected his stay to be extended having broken into the first-team prior to the coronavirus shutdown.
The 19-year-old made his Premier League debut for West Ham under Moyes in January, and with Ryan Fredericks out injured at the time a stop was put to football, the right-back was likely to receive a sustained spell in the side.
However he dropped the bombshell to the Hammers earlier in the month, leaving the London outfit short of options on the right side of their defence, ahead of a pivotal period for the club.
Moyes is not impressed with the decision and has opened up on how much of a kick in the teeth it has been for the West Ham boss.
"We are really surprised and disappointed that Jeremy is not going to stay at West Ham," the Daily Express quote him as saying.
"We like him a lot, we've given him his debut and I'm a manager who has done that many times in my career, including Wayne Rooney, Ross Barkley, Jordan Pickford and others.
"Jeremy is another one and I feel he is making a mistake choosing not to stay with us. We've trusted him in big games and everyone likes him at the club.
"I also feel it's a kick in the teeth for the academy, because they have developed a player for the first team and he's not going to stay. We're also really disappointed with his decision not to stay beyond June 30.
"I don't agree with that and I also think it's something the Premier League should not allow to happen, because it means the season is not starting and finishing in the same way.
"There's nothing we can do about that, though, and we are still working with him. We like him, we want him to feel he's been given the best service we can give and maybe there's still a little hope that we can change his mind."
West Ham have until June 23 to change the mind of their young defender in order for him to sign a contract until the end of the season, however that does not look likely at this stage.
---