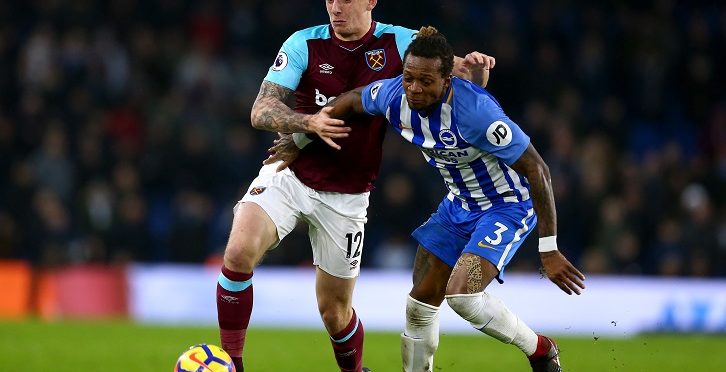 Jordan Hugill sends message to West Ham fans – 'A big moment for me'
West Ham United striker Jordan Hugill has admitted he will never forget the final few moments of his new side's 2-0 win over Watford at the weekend, and revealed he is putting in the extra time on the training pitch in order to be full prepared for when his next opportunity comes.
The 25-year-old secured an around £9 million switch from Championship outfit Preston North End to the Hammers in January, and got his first taste of what life can be like inside the London Stadium last weekend as the east Londoners secured a vital victory against the Hornets.
Moyes gives update on Arnautovic fitness – https://t.co/tSNpN8Uo7b #WHU #WHUFC #COYI #Hammers

— West Ham Blog (@WestHUblog) February 11, 2018
After claiming all three points, the Middlesbrough-born frontman stated his first experience in an Irons shirt left him hungry for more as David Moyes' men look for a strong finish to the end of what has been a tough campaign.
"To get on for my home debut was a big moment for me, and getting the three points makes it even sweeter so it's a great day overall", Hugill told the club's official website after securing his first home minutes for West Ham since his winter move.
"I was ready to come on at any time – as soon as it got into the second half I was thinking that I had a chance. To get the call was brilliant, it went like that but it was a brilliant experience to play in front of the fans.
"I'm excited for the rest of the season. The boys were excellent all over the pitch, it was great to get the two goals and I'm sure the defenders will be happy with the clean sheet too.
"It's always important to get points against the teams close to you in the table – you don't want them getting away from you so it was a good day to get the points."
Despite racking up just two minutes on Saturday, in addition to the 10 Hugill secured against Brighton & Hove Albion earlier in the month, the West Ham attacker has revealed that he has found no issues settling into the side, and he has been working hard after training to make sure when his opportunity comes, he takes it.
Moyes hails 28-year-old as important man, but says he can do better – https://t.co/qPPfLRuKMS #WHU #WHUFC #Hammers #COYI

— West Ham Blog (@WestHUblog) February 11, 2018
"Everyone's been really good to me, the players, staff, everybody", the Englishman added.
"The lads have made it much easier for me to settle in because they're a good group.
"I'm doing bits after training just to get myself prepared and ready for when I'm needed. When I get the call I'll be ready for it."
That opportunity may well come when the Hammers travel to Liverpool towards the back end of this month, in hope they can capitals on the Merseysiders' Champions League distractions and secure a further step towards Premier League survival.
---