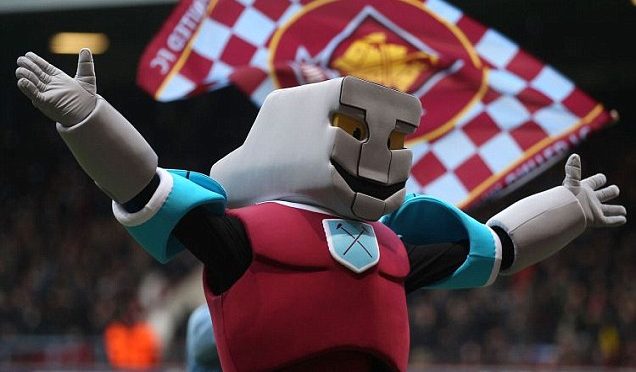 Hammerhead and other English Football Mascots
There's nothing quite like relaxing on a weekend, sitting down in front of the TV with your beer at the ready and the Betfair football odds up on your device so that you can work out where you want to stake your cash and which accumulator you want to pick.
If you regularly watch matches, both live and online, you'll often see someone that look out of place – a mascot. To anyone that's not involved in sports, a mascot might seem out of place at sporting events. Although they are thought to bring luck, mascots are now regularly being used in a team's marketing campaign and being used to attract younger fans to games. Certain mascots are even used at half time to provide entertainment to the fans. There have even been some controversial moments during games where they have 'upset' opposition managers.
It's unknown who the first football mascot was, but you're able to find a football mascot at every club in the Premier League and Football League. Depending on what ground you visit you'll see a variety of different mascot, some that have some relevance to the club and some that do not.
For example, Rochdale's "Desmond the Dragon" has almost no relevance to the club. There's a variety of different mascots at every club, but our very own mascot, "Hammerhead", is one of the most unique characters in English football. As the name suggests, the top of Hammerhead's head resembles the top of a hammer. Although the rest of the body resembles some sort of robot, the costume definitely gives off a strong and powerful presence. He even dances to MC Hammer's 'Hammertime'!
Bubbles the Bear is the other official West Ham mascot. Although not as 'menacing' as Hammerhead, he still remains a beloved mascot at the club.
Overall there's 92 mascots in the Football League for you to guess, some of which more recognisable than others! How well do you think you're going to do in this quiz, is it going to be a solid back of the net or is a red card in your future?
---