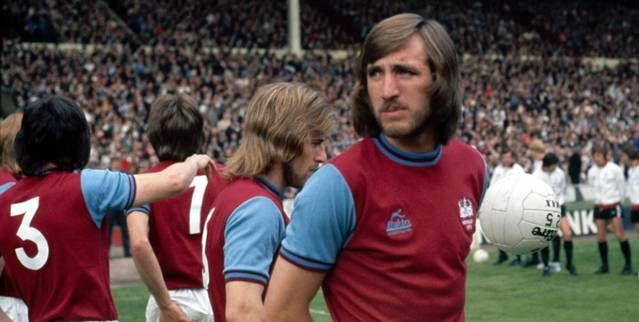 Five West Ham Cult Heroes
West Ham United are a team that invoke a certain positivity in neutral fans that few other clubs can.
There's an innate 'Britishness' about the Hammers, playing football in the right way and fighting for their East End values and identity more than anywhere else can.
Few clubs represent an area and a way of life all rolled into one but the Hammers do just that.
Within that spirit, there are names and faces that are immediately identifiable as cult heroes, not just from those who are time served bubble blowers, but also the average fan on the street who almost certainly has West Ham as a team he (or she) secretly looks out for.
Three of the players featured when West Ham won the FA Cup in 1980, the last time a team outside the top flight managed it. If a team were to do it today they would be doing so as a 100/1 shot, or 101.0 as a decimal.
Decimal betting is all the rage these days, so if odds of 101.0 confused you, it might be best to take odds advice from Mr Green before placing your bets.
One thing is for certain, few markets featuring West Ham this weekend will facilitate the achievements these five made.
Sir Trevor Brooking
Brooking become synonymous with the FA Cup win of 1980, scoring in the 13th minute of the showcase Wembley final against an Arsenal side featuring Liam Brady, Frank Stapleton and Pat Jennings.
It is also the last time a side from outside the top flight lifted the FA Cup in England. That an achievement in itself, never mind his 647 appearances and 102 goals for the club or having a stand named after him.
Carlos Tevez
Despite the controversy surrounding the Argentinian magician, he remains a cult hero in East London long after he departed.
He joined in something of a transfer coup, scored the goals that kept the Hammers up and was later found to be illegally owned by a third party.
Sheffield United did not like that but Hammers fans don't care at all.
Phil Parkes
68-year-old Parkes was a Hammers stalwart of many years and is widely considered to be the best keeper ever to have worn the number one jersey.
He joined from Queens Park Rangers in 1979 for £540,000, a world record for a keeper at the time. Within a year, he had won the FA Cup, the last major trophy housed under West Ham's roof.
He went on to make over 350 appearances for the club and, in doing so, wrote his name in Hammers folklore.
Julian Dicks
Sometimes, it isn't goals and victories that get you noticed, but blood and thunder tackling and a commitment to the cause that goes beyond the norm. Those would be timid ways to
describe Julian Dicks.
He was the original hard-man of the Premier League, feared by strikers and often applauded for tackling that would today be outlawed.
He played almost 300 times for the Hammers in two spells either side of a big money move to Liverpool. Some of his former opponents still have scars.
Billy Bonds
Mr West Ham United. How else could one describe the legend that is Billy Bonds?
He spent a total of 21 seasons at Upton Park, playing in 799 games. He won the FA Cup, endured relegation in 1978 and promotion in 1981.
He started playing in claret and blue when the Beatles were big and hung up his boots when U2 were in the charts. The ultimate West Ham hero.
---